Reconciliation Week at Discovery
Reconciliation Week at Discovery
"Reconciliation is a journey for all Australians – as individuals, families, communities, organisations and importantly as a nation. At the heart of this journey are relationships between the broader Australian community and Aboriginal and Torres Strait Islander peoples. We all have a role to play when it comes to reconciliation, and in playing our part we collectively build relationships and communities that value Aboriginal and Torres Strait Islander peoples, histories, cultures, and futures." - Reconciliation Australia (https://www.reconciliation.org)

waranta (we) acknowledge the traditional owners and custodians of the Land, the palawa peoples and pay respect to the Elders past, present and emerging, for they hold the memories, traditions and hopes for future generations. We recognise that Aboriginal and Torres Strait Islander peoples are connected to the oldest continuing cultures on the planet and have nurtured the Land on which we learn, play and grow since creation. milaythina nika waranta pakana. As long as we remember them.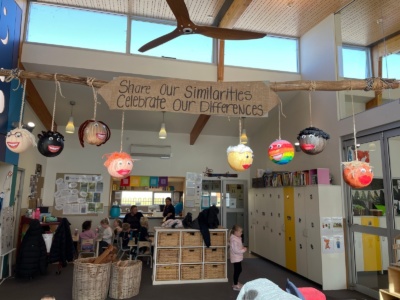 This Reconciliation Week was celebrated by all the Discovery services. Here is a small snapshot of some things that happened around the state.
In our Ravenswood service educators worked with groups of children to learn the Acknowledgement of Country and consistently embedded this into their everyday routines. The service has recently changed their Acknowledgement by a few words to suit their service. The centre also showcased a beautiful display to "show our children, families and community about equality, cultural diversity, acceptance of all genders, race, religion and identities."
"Educating our children with the truth is the way toward healing this great country."— Helen Moran, Stolen Generations member. Here is one of Ravenswood green room children giving thanks to the pakana people's for the land, sky and water ways on which we learn and play.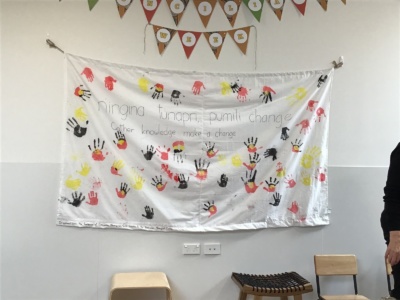 To celebrate Reconciliation week at the Launceston centre, the children and educators worked together to create a banner. They used the palawa kani phrase 'ningina tunapri, pumlili change' as their centre piece. When it was ready to hang all the children came together in the hub to participate in the Acknowledgment of Country and to watch the banner be put on display.
Alexander Beetle House recently shared on facebook how they made their own paints using natural resources and used this to colour the 'Action' story by Jessica Johnson. 'Action' tells the story of the land and community sharing the united call for action on reconciliation. They also created their reconciliation journey on paper, walking in pairs on paper - leaving their painted footprints to create a visual representation of a road to reconciliation. While our Lauderdale centre has embarked on a project to grow an indigenous themed garden, planting bush tucker that will be a part of the program for a long time. The children will journey through their understanding of Aboriginal culture through planting, growing, harvesting and cooking indigenous plants.
Our Illara Pre School, Dominic and Ulverstone centres have all been fortunate enough to have special guests come into the centres to share their Aboriginal culture in stories, art and craft. These meaningful connections with the Aboriginal community are so important to us, and we feel honored with how giving our guests have been with sharing their culture, educating the children and educators.
David Bester joined the children at Illara, reading Dreamtime stories, teaching the children about the traditional owners of the land, past and present, and engaged in art activities together. At our Dominic centre, elder Aunty Lou, came in and sang songs and participated in some art experiences with the children; and at our Ulverstone OSHC, Hellen from the East Devonport Child and Family Centre, brought some wallaby skin to share with the children. They also spent time weaving together , learning palawa kani words and read the story 'Respect' together. As the Dominic service says "inviting visitors into our service allows the children the opportunity to develop their understanding of social and cultural heritage through engagement with Elders and community members."
As noted by our Launceston centre "whilst we participated in a week of activities, embedding Aboriginal and Torres Strait Islander culture and education is ongoing commitment and can be reflected in our programs at all times."
Discovery is committed to embedding Aboriginal history and culture in our everyday educational program. Our educators have been trained in the delivery of the Narragunnawali educational program that supports education and care services to develop environments that foster a higher level of knowledge and pride in Aboriginal and Torres Strait Islander histories, culture and contributions.