Connections
We are committed to maintaining meaningful links within our communities, teaching children to be active community members and socially aware. These connections and collaborations support us on our journey of continual improvement and improve the outcomes for children and families.
Reconciliation through Collaboration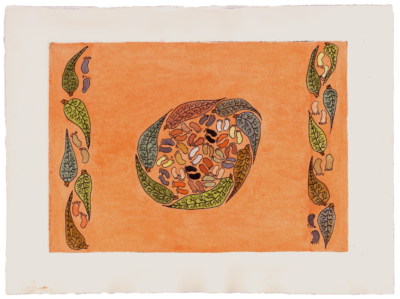 Through our commitment to Reconciliation, Discovery collaborated with celebrated Tasmanian Aboriginal artist, Allan Mansell, and purchased two prints that Allan designed especially for us. These unique designs honour our work in the Early Childhood Education and Care Sector. It is a privilege to be able to share Allan's talent of storytelling through his art and for Tasmanian Aboriginal culture to be embedded within Discovery in such a visual and meaningful way.
Allan's design consists of gum leaves and children's footprints. In the central design, Allan has included 7 gum leaves to represent the 7 days in a week, all coloured to represent different stages of seasons throughout the year and one's lifetime. Encased by the gum leaves are 24 pairs of children's feet, to represent the 24 hours in a day, coloured to represent the inclusion of every child. The gum leaves encircle the feet, in a protective egg like shape – a representation of the nurturing children require from conception.
Connections and Collaboration
These are some of the organisations we support and who inform our educational programs and policies: