Growing A Mentally Healthy Generation
Growing A Mentally Healthy Generation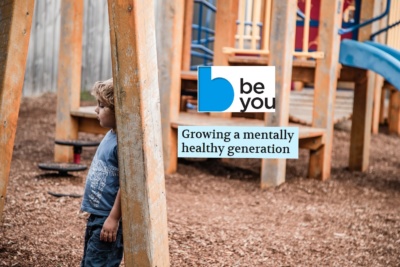 Discovery is committed to the health and wellbeing of the staff, children and families in our communities. Discovery works to promote an understanding of mental health and wellbeing to ensure thriving workplaces across Discovery services, where considerations for mental health and wellbeing are embedded into practices across all levels of the organisation.



Be You and Early Childhood Mental Health and Wellbeing

All Discovery centres are proudly Be You Learning Communities - Be You is the national education initiative delivered by Beyond Blue. Early childhood experiences have a big influence on a child's development and their mental health and wellbeing, when they are young and in later years. Parents and other caregivers, including educators in early learning services, have a pivotal role.

Be You is aimed at promoting and protecting positive mental health in children and young people. Be You's vision is for "an education system in which every learning community is positive, inclusive and resilient, and where every child, young person, staff member, and family can achieve their best possible mental health."
No matter the stage of development, positive relationships with others can help all children and young people: better handle challenges and generally feel happier; and to learn skills and competencies which can improve health and wellbeing, resilience and learning outcomes.
"Early childhood mental health and wellbeing is seen in the capacity of a young child – within the context of their development, family, environment and culture – to: participate in the physical and social environment; form healthy and secure relationships; experience, regulate, understand and express emotions, understand and regulate their behaviour, interact appropriately with others, including peers; and develop a secure sense of self." Everymind, everymind.org.au
Our Team
We are also committed to the health and wellbeing of our staff. We do this by maintaining healthy and safe workplaces, reducing the stigma of mental health and promoting awareness and understanding of coping with and supporting mental health. It's important to recognise how our own mental health and wellbeing can impact on children and young people's development and learning, and how everyone can benefit by learning more about mental health and wellbeing.