Discovery Lauderdale's Educator Recognition
Discovery Lauderdale's Educator Recognition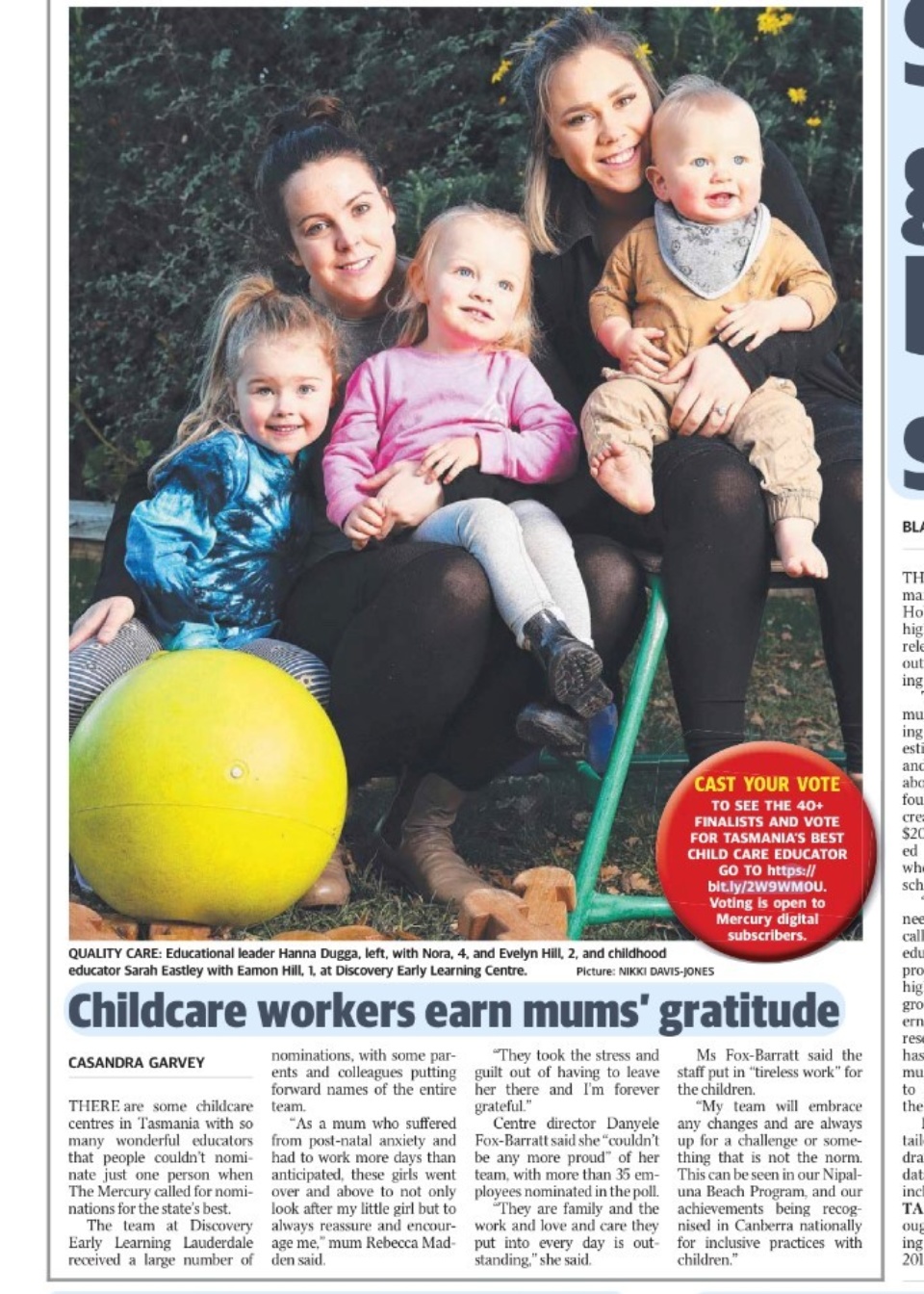 The Discovery Early Learning Centre in Lauderdale featured on the front page of The Mercury newspaper (13/07/20) as over 35 team members form the one service were nominated in the paper's search for 'Tasmanian's Best Child Care Educator'.
Bek Hill, nominated 33 of her colleagues in the centre. She told The Mercury "They work tirelessly to provide programs and opportunity for all ages to experience the full extent of their childhood and embrace nature and risk. The love they have for the children and comfort they provide for the families is outstanding and they should be damn proud of themselves and the work they do. Every little thing they do doesn't go unnoticed."
The full list of Discovery Early Learning Lauderdale staff nominated were listed on The Mercury online as: Krista Grainger, Kim Roberson, Haylee Woolley, Rhianna Longo, Jas Wilson, Amy Louise Gadd, Missy Griffiths, Beck Balym, Kaileb Barracu, Kyle Fishpool, Kate Rolf, Jessica Read, Louise Pickett, Marta Miranda, Hanna Duggan, Kaity Tatnell, Kat Macdonald, Em,ily Sutton, Emily Cresswell, Jodie Lee, Michaela Williams, Alyssa Stewart, Paige Farrow, Emma Waller, Bree Silva, Marg Goodrick, Krischelle Williams, Ashlee Dobbs, Mikayla E, Sarah Eastley, DanYele Fox-Barrat, Dru Riuchards and Olivia M.
Ella Cragg, who's child attends the service told an educator that she had paid for a Mercury subscription just so she could vote for "the most amazing carers around" - this is wonderful recognition for educators and support staff in the sector who have faced unprecedented challenges in recent times.